To not miss any African news, Subscribe to the newsletter from "World Africa" from this link. Every Saturday at 6 a.m., find a week of news and debates covered by the editorial staff of the "World Africa".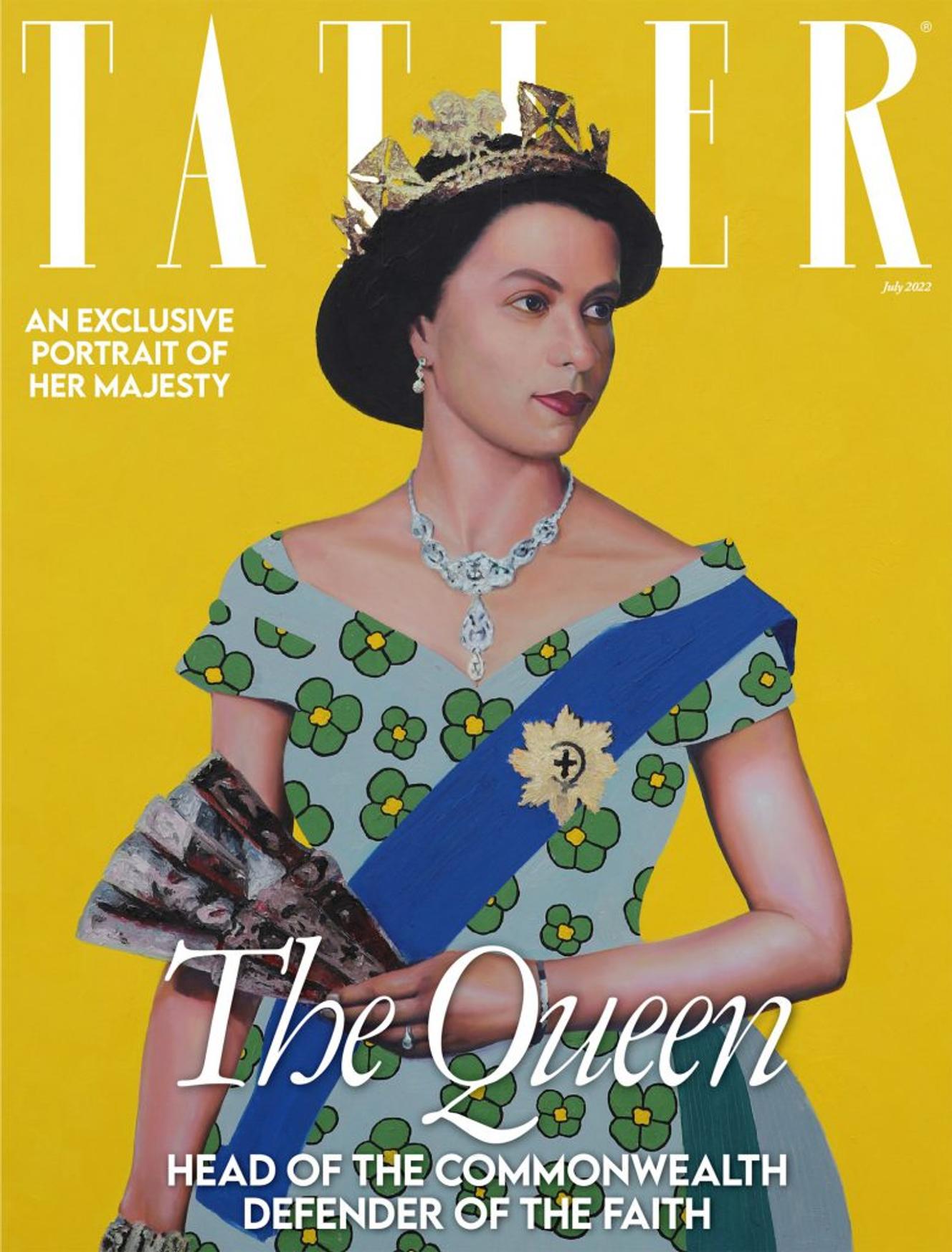 To design the cover of its tribute issue to the platinum jubilee of Queen Elizabeth II, published in July, the very chic British magazine Tatler turned to Africa. It was the Nigerian Oluwole Omofemi (represented by the London gallery Signature African Art) who was finally selected to create an exclusive portrait for this publication specializing in the style, fashion and news of British high society. "It was a big challenge for me, because I never met the queen and I didn't know much about her"recalls the artist, who says he has "tried to seize the essence" of his subject.
For four weeks, the painter, aged 34, isolates himself completely from his wife and their two young children to absorb himself in the study of the life of Elizabeth II. Oluwole Omofemi printed around 100 photographs and watched dozens of online videos to craft her portrait, ultimately based on an image taken around 1955 in which the sovereign wears the sash and star of the Order of the Garter. "I had to think about how I was going to infuse Nigerianness into this portrait"explains the artist, whose work is centered on the representation of black women with imposing hairstyles.
"I wanted to represent the queen at the height of her strength, her power and her beauty.he explains. Natural hair is a symbol of the power of the black women I paint, it's like a halo around their head. » The queen's jet-black headdress therefore takes center stage in this brightly colored portrait that evokes pop art. The silhouette of the young Elizabeth stands out against a bright yellow background, belted in a blue dress decorated with flowers. "This pattern allows me to give life to an environment tinged with Africanity. But I didn't want to go too far either, to offer a representation that remains universal," explains Oluwole Omofemi.
"A symbol of hope for many people"
The painter displays his pride in being "the last African artist" to have represented the queen during his lifetime, even if he did not have the chance to see her pose for him, like his illustrious predecessor the sculptor Ben Enwonwu. In 1956, he offered his services to the Secretary of State for the British Colonies on the occasion of Elizabeth II's first official visit to Nigeria. The sovereign will pose for the Nigerian artist the following year in London. The monumental bronze statue created by Ben Enwonwu is now housed in the Lagos National Museum.
In Cape Town, 1947. Elizabeth (second from left) is still only a princess. For her first visit to South Africa, she is accompanied by her father, King George VI, her mother, Queen Consort Elizabeth, and her sister, Princess Margaret. It was there, on April 21, 1947, the day of her 21st birthday, that she gave her first speech as Crown Princess: "I declare before you all that my whole life, whether long or short, will be dedicated to your service and at the service of our great family of the Commonwealth, empire to which we all belong. – / AFP

This photo shows the treehouse at Treetops Lodge, Kenya, where Elizabeth was staying the night her father, King George VI, died on February 6, 1952. YASUYOSHI CHIBA / AFP

In 1956, on a visit to Nigeria – then a British colony – Queen Elizabeth II met Adeniji Adele II, the King of Lagos. – /AFP

On November 21, 1961, during a ball at the "State House" in Accra, Queen Elizabeth II danced with Kwame Nkrumah, the first president of Ghana (who became independent in 1957). In the background, her husband, Prince Philip, and First Lady Fathia Nkrumah. This photo has gone around the world, to the point of becoming one of the emblems of the modern Commonwealth, supposedly postcolonial and multiracial. – /AFP

With Ethiopian Emperor Haile Selassie during a state visit to Addis Ababa in February 1965. – / AFP

With Zairian President Mobutu Sese Seko, in London, in December 1973. – / AFP

In March 1995, Elizabeth II went to South Africa for the first time as Queen – a country she had not returned to since her visit in 1947. There she met Nelson Mandela, elected president a year earlier. Stringer.

With Ghanaian President Jerry Rawlings, Prince Philip and First Lady Nana Onadu Agyemang Rawlings at a meeting of traditional leaders in Ghana, November 1999. Reuters Photographer / REUTERS

With Nigerian President Olusegun Obasanjo in Abuja in December 2003 for his first visit to the country since its independence from the United Kingdom in 1960. Reuters Photographer / Reuters

With Cameroonian President Paul Biya at Buckingham Palace in London in March 2004. Paul Biya, 89, whose country joined the Commonwealth in 1995, becomes with the death of Elizabeth II the head of state in oldest exercise in the world. KIRSTY WIGGLESWORTH / AFP

Ugandans raise British flags in front of a portrait of Elizabeth II during a visit by the Queen to Kampala on the occasion of a Commonwealth summit in November 2007. Euan Denholm / REUTERS
"I too have remained positive in my portrayal as I think she was a beacon of hope for a lot of people in Commonwealth countries", says Oluwole Omofemi. The artist's grandfather also told him with emotion of his memories of the Queen's visit in 1956, which had taken her to the four corners of the country still under British domination. The man, now 99, was able to see the monarch waving to the crowd through the window of his Rolls-Royce. "I painted this portrait for my generation, for my family and my country, so that history remembers that it was a Nigerian from Ibadan who made it", proudly concludes his grandson.